du hosted the GSMA Terminal Steering Group #50 meeting at the Sheraton Hotels at the Mall of Emirates from November 28 through December 1. This conference coincided with the TSG#50 anniversary.
As one of the most important GSMA members from the MENA region, this important meeting confirms du's position as a leader in the MENA standardization work and puts the telco at the forefront of the UAE global standardization process.
Paul Gosden, terminals director, GSMA received the anniversary souvenir from du from Yaqoub AlZarouni, head of information security, du.
In his opening remarks, Yaqoub AlZarouni said that du was honored to host the event in Dubai and presented the company's vision, which aligns with the UAE national strategy on digital transformation.
Al Zarouni said that as the UAE's second operator, du is always looking beyond implementing 5G and constantly focusing on the use cases, security and performance aspects of the new technology. "In line with our promise to the country, our 5G coverage in the populated area has crossed 94%, and aims to reach 96% by the end of this year."
"As technology enablers, we are working intently on three key verticals under 5G: robotics, big data and drones. From a CTO perspective, our focus is to ensure that all our core elements are up to date with wide coverage of speed and footprint from fixed as well as mobile services with smart rollouts and high-quality deployments in all our commercial outcomes use cases. We are increasing the efficiency via innovation and digitalization, enabling machine learning and AI that reduce the costs for our customers. We are upskilling our workforce through professional training and certification programs in collaboration with our vendors and regulators."
Al Zarouni also maintained that security is of prime importance in the age of the internet of things. "With data centers away from the core infrastructure, security becomes a major issue. We'll be checking beyond the connectivity, and instead of being an enormous CSP, we are trying to be an innovative CSP," Al Zarouni said.
Finally, Al Zarouni touched upon the topic of sustainability and highlighted some of du's green initiatives. The introduction of solar panels, smart hydropower systems and cooling systems for data centers were also mentioned. du's use of solar panels on cell towers for power generation instead of carbon-heavy diesel generators has proven to be an effective innovation in energy efficiency. "We have applied advanced radio network features for intelligent network operations to conserve power consumption. We are working with our regulator and the competitor to shut down power-consuming technology by end of this year," he added.
du will be closely working with the TSG, who will provide industry-leading standards to:
Facilitate operator and vendor alignment to drive terminal-related matters for the benefit of the entire mobile ecosystem.
Improve the features and quality of mobile services through information gathering and sharing.
Drive mobile terminal capability requirements and develop and support key enablers.
Formulate test cases, including field tests as required, to enhance usability, security and interoperability across terminals, servers and network infrastructures.
Establish liaisons with other relevant industry organizations to complement and contribute to terminal-related initiatives while avoiding fragmentation and duplication.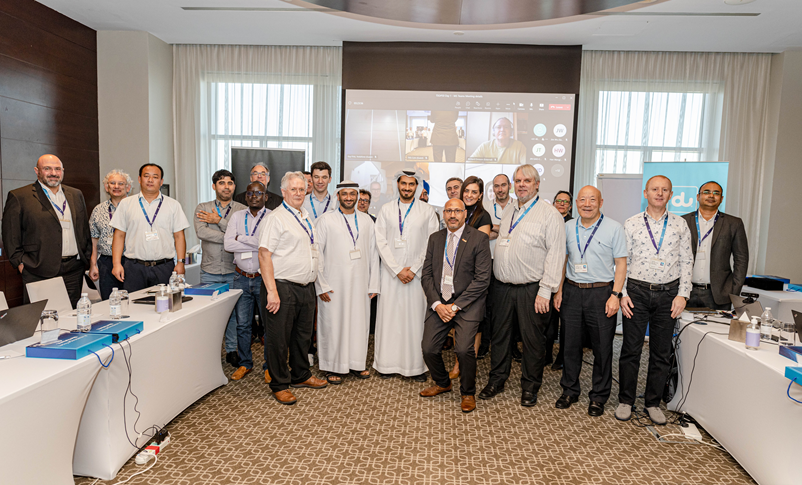 Group photo of the attendees at the TSG meeting
Over the course of four days, du will demonstrate its footprint through exclusive du demos in front of industry players, including Vodafone, GSMA, China Unicom, China Telecom, Three UK, HPE, AT&T, China Mobile, NTT DoCoMo, Huawei, Telefonica, Samsung, Qualcomm, e& (Etisalat), -Mobile Global, Orange and the rest of the Tier 1 industry stakeholders.
The TSG, which conducts four meetings a year, is currently working on the following topics:
Device field and lab test guidelines
Requirements for Artificial Intelligence (AI) on mobile devices
APP ID-based network slicing
eSIM test profile for testing devices with eSIM
IoT device connection efficiency
IoT OTA antenna performance testing
Mobile IoT device requirements and testing
RCS testing
Service entitlement configuration
Requirements for devices with multiple SIM
Operator minimum acceptance values for device antenna performance
Smartphone user experience
Technical adaptation of devices through late customization
Device requirements for ultra-wide band use
IMEI allocation and approval process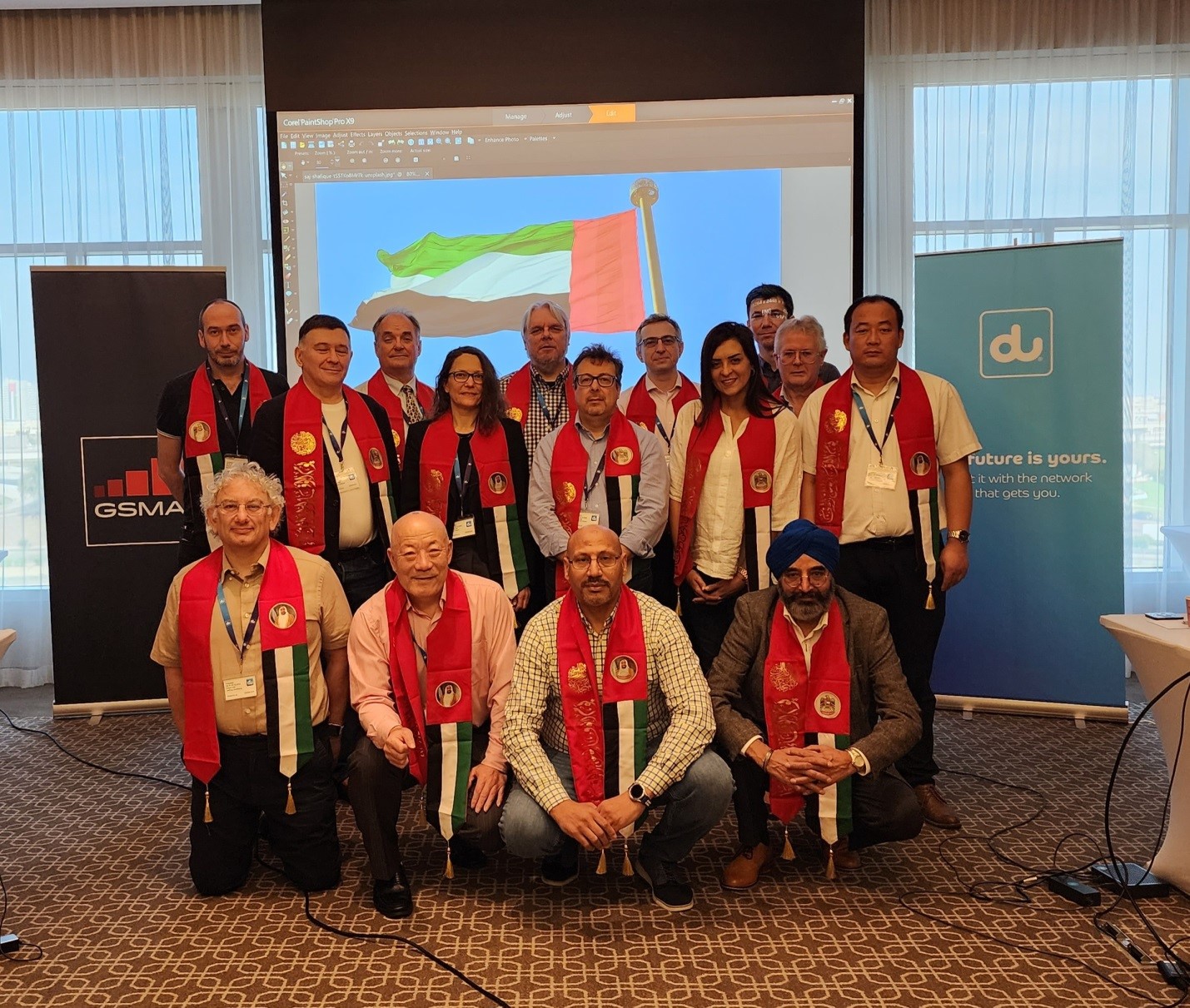 The TSG meeting attendees during UAE's National Day celebration