In the ever-evolving world of telecommunications, Huawei maintains its commitment to innovation and leadership in the microwave industry. During the 2023 Global Mobile Broadband Forum, Huawei introduced its latest microwave technology, MAGICSwave, which paves the way for a smooth transition to 5.5G with full-band and multi-channel capabilities. The new-generation MAGICSwave supports ultra-wide multi-channel transmission to enhance backhaul efficiency, offering increased capacity for urban areas and longer transmission distances for suburban areas. It boasts a high level of integration, allowing networks to adapt and evolve over the next decade.
This groundbreaking platform represents a significant advancement in the industry, heralding a simpler and more environmentally friendly microwave landscape.
What is MAGICSwave?
The platform encompasses several key advancements:
In urban areas, E-band technology boasts impressive upgrades, achieving hardware capabilities of 10 Gbit/s to 25 Gbit/s. In suburban areas, the 2T CA ODU introduces Carrier Aggregation Instantaneous Bandwidth (CA IBW) ranging from 224 MHz to 800 MHz at maximum, making CA deployment ubiquitous. Meanwhile, MAGICS LH solution offers a more straightforward setup with four-band antennas and 4-channel RFUs, simplifying tower installations. This all-scenario MAGICSwave platform covers a spectrum from 6 GHz to 80 GHz, and has 25GE service interfaces, supporting a smooth evolution over the next decade.
Reasons for Huawei's Continuously Leading Microwave
For nine consecutive years, Huawei has maintained its position as the top player in the microwave industry. Its commitment to continuous investment and innovation has led to the development of the MAGICSwave platform, which is poised to guide networks for the next decade.
Urban Scenarios: New 2T E-band
Huawei introduces groundbreaking advancements in urban scenarios. The 80 GHz high-frequency band, for the first time in the industry, supports 2T2R. Single E-band hardware capabilities have increased from 10 Gbit/s to 25 Gbit/s, resulting in a 150% capacity boost. The industry's only commercial high-power radio with a transmit power of 26 dBm, combined with the 2D intelligent beam tracking capability of the 2D IBT antenna, extends the E-band transmission distance by 50%, allowing for widespread deployment in urban areas. E-band can efficiently replace high-cost frequency bands, reducing operator TCO by up to 70%.
Suburban Scenarios: New 2T2R True Wideband CA ODU
The new-generation ODUs extend to traditional frequency bands (6–38 GHz) with an impressive 800 MHz CA IBW, nearly three times higher than the industry standard. This broader IBW allows for genuine CA deployment. The innovative software and hardware innovations result in a 4.5 dB increase in system gain, offering the highest CA gain in the industry. Moreover, Huawei's solution allows for a 50% reduction in antenna size or a 30% increase in transmission distance in new deployment scenarios. This advancement resolves the challenge of limited CA instantaneous bandwidth and simplifies deployment.
Backbone Network Scenarios: New Long-Haul Upgrade
MAGICS LH introduces four-in-one multi-band antennas, which cover a broad frequency range from 6 GHz to 11 GHz. Besides, the new four-channel-in-one CA RFU is used in the new solution, with the bandwidth quadrupled for a single RFU. When the HGSD feature is used in SD scenarios, the system gain can be increased by 7 dB. This enhances the transmission distance by 30%, while maintaining consistent antenna sizes. Furthermore, the four-band-in-one multi-band antenna, combined with the four-channel-in-one CA RFU, reduces the required number of antennas by 75% in high-bandwidth scenarios, leading to significant hardware cost savings. A single link can now reach 20 Gbit/s at a 50 km distance, offering coverage for all suburban scenarios.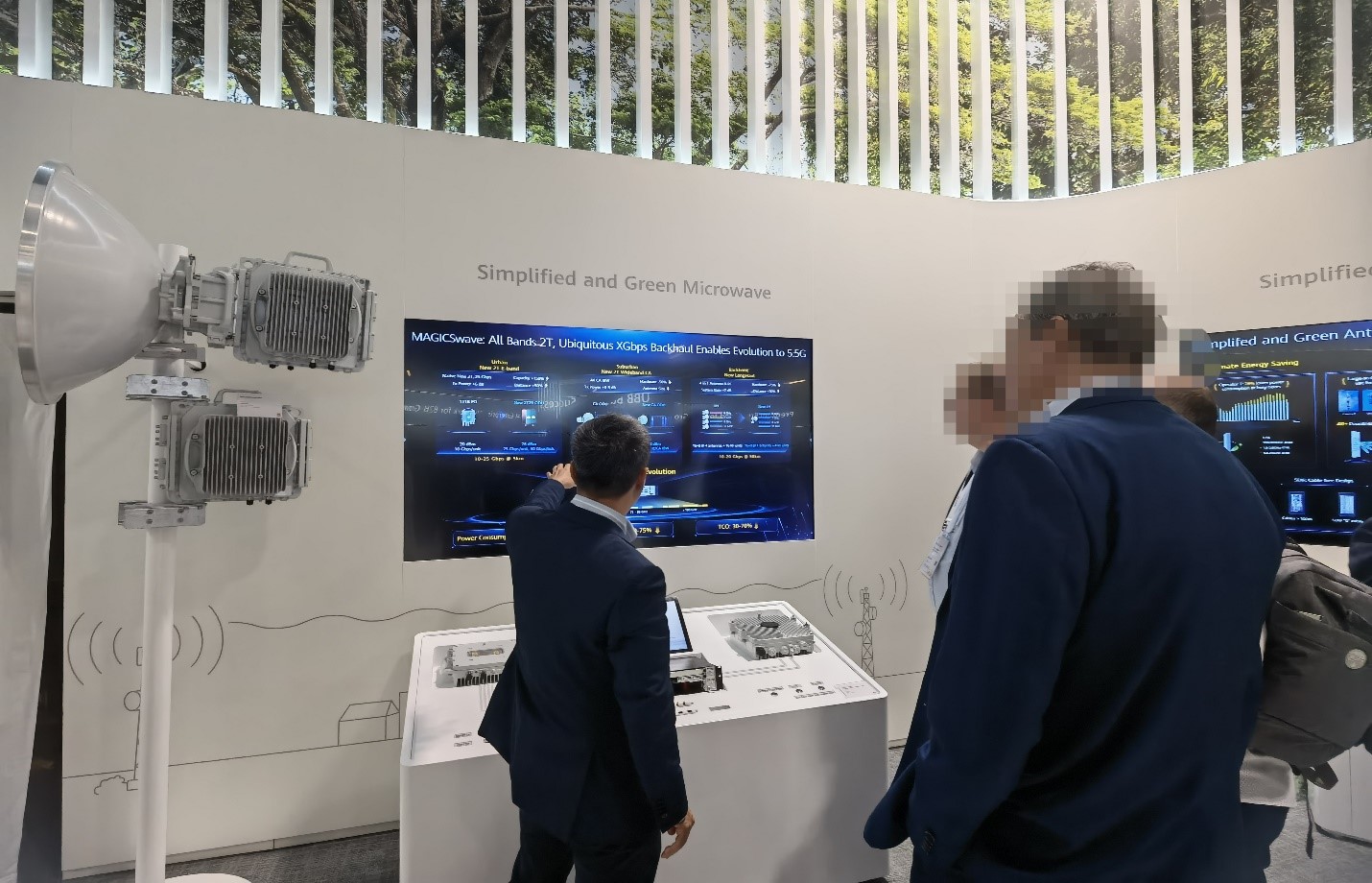 Unified Architecture of All Frequency Bands: Smooth Evolution Over the Next 10 Years
IDUs are normalized across all scenarios and frequency bands, from 10GE to 25GE, improving integration by 60%. The MAGICSwave platform supports 25GE and facilitates the delivery of 25 Gbit/s to various sites. The 2U height IDU offers 24 directions, a significant improvement over the 5U IDU offered by the industry. This 60% increase in integration leads to reductions in equipment room space and power consumption. With full-band normalization capabilities covering a spectrum from 6-80 GHz, smooth upgrades from traditional frequency bands to E-band are supported, making it suitable for urban, suburban and backbone microwave scenarios.
The new MAGICSwave platform revolutionizes microwave technology, offering an optimal Total Cost of Ownership (TCO) and facilitating the creation of a simplified and energy-efficient network. Operators can expect to reduce hardware requirements by 50% to 75%, power consumption by 30% to 50%, and overall TCO by 30% to 70%. This cutting-edge platform paves the way for a fiber-like service experience in the forefront of telecommunications networks. Huawei's commitment to innovation and leadership remains unwavering, ensuring that MAGICSwave continues to shape the future of microwave technology and 5.5G evolution.