The capital expenditure (CAPEX) of hyperscale cloud operators increased by 31% percent during the first quarter of 2021, bringing the total CAPEX spend over the past four quarters to over $149 billion.
Based on the latest figures from Synergy Research Group, most of the spending are going towards building, expanding, and equipping large data centers, which surged to 625 in number by the end of Q1.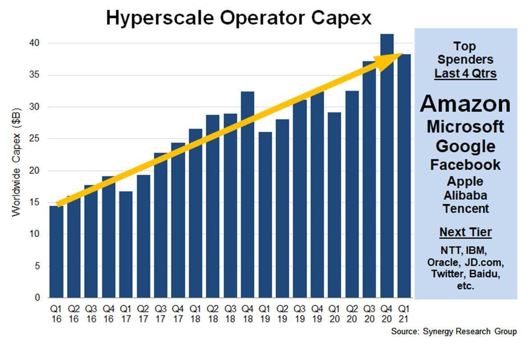 "It is interesting to compare their fortunes with other types of major service provider around the world," said Synergy Research Group chief analyst John Dinsdale. "As hyperscale capex levels keep on setting new records, it is in stark contrast with telcos whose capex has essentially been totally flat for five years now, mirroring their inability to grow overall revenues. Given the ongoing growth in service revenues for hyperscalers and the ever-increasing need for a larger global data center footprint, we are forecasting continued double-digit growth in hyperscale capex for several years to come."

Unsurprisingly, the companies with the broadest data center footprint are also the leading cloud providers: Amazon, Microsoft, and Google. Each has 60 or more data center locations across different regions of the world – North America; Asia Pacific (APAC); Europe, Middle East, and Africa (EMEA); and Latin America.

In terms of revenue during Q1 2021, Microsoft's Intelligent Cloud segment grew by 23%, recording the highest quarterly profit of $15.1 billion among its competitors. Amazon Web Services (AWS) follows this with $13.5 billion generated revenue at 32% growth, while Google Cloud brought in $4 billion, an increase of nearly 50%.