e& announced its consolidated financial results for Q3 2023 reporting consolidated revenues of AED 13.4 billion with a YoY increase of 3.3%, while consolidated net profit was AED 3 billion, a YoY increase of 20%.
At constant exchange rates, consolidated revenue increased by 8% and consolidated EBITDA increased by 6.9%, resulting in a resilient EBITDA margin of 51%.
The number of etisalat by e& subscribers in the UAE reached 14 million in Q3 2023, representing an increase of 4.7% over the same period last year. Aggregate group subscribers reached 167 million, a 3.3% increase.
Financial Highlights for Q3 2023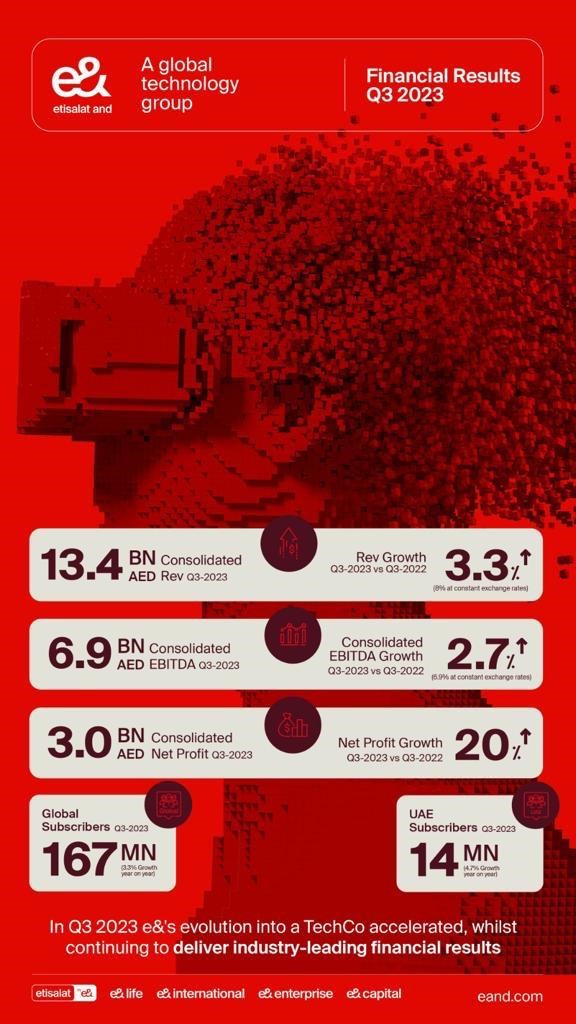 Commenting on the results, Hatem Dowidar, Group CEO, e&, said, "e&'s strong performance this quarter is a testament to our resilience, and commitment to delivering value and growth to our customers and shareholders. We will continue our focus on championing innovation to enrich the lives of our customers and make a positive impact across the societies we serve. We remain committed to leading the change by taking our first steps in sustainable mobility and transforming our business with AI powered solutions, while realizing our vision of digitally empowering societies."
CEO Exclusive: e& Taking the Lead Toward a Tech-Driven Future
"Looking ahead, we will continue to push the boundaries of technology and innovation, while our strong performance serves as a stepping stone toward a future where we continue to pioneer advancements and create even more value for all our stakeholders. Thanks to our talented teams, loyal customers and shareholders for their continued trust and support in our vision. Together, we are poised for even greater achievements to come in the near future," Dowidar concluded.
Key Highlights and Developments for Q3 2023
e&: A Global Technology Pioneer Pushing Digital Boundaries
The world's first AI-empowered autonomous telecom store 'EASE' was introduced as part of the trajectory of innovation, using ground-breaking technology to allow customers to seamlessly purchase products and services. e& also took a major step to support electric mobility in UAE with the soft launch of 'Charge&Go', an end-to-end holistic EV charging solution.
In line with e&'s commitment to climate action and sustainable community growth, the Group proudly became the 'Principal Technology Partner' for COP 28. It has also joined the World Economic Forum's EDISON Alliance to promote global digital inclusion for more than 30 million people in the markets that e& serves.
In addition, a collaboration with the UAE Ministry of Education aims to nurture a digital-first mindset among students using next-generation digital tools. Etisalat Academy partnered with EarthLink to launch a telecoms training academy in Iraq, focusing on GPON FTTH network systems.
On the global front, e& has joined forces with international giants such as SK Telecom, Deutsche Telekom, Singtel and Indosat to launch a global alliance in AI for telecoms. This alliance will pave the way for new innovations and co-development of the Telco AI platform. A partnership with Indosat promises to improve voice communication between Indonesia and the UAE by providing high quality IDD services.
etisalat by e&: Revolutionizing the Telecom and Digital Sectors
etisalat by e& strengthened its market position through technological advances and strategic alliances by continuing to expand its 5G services, introducing 5G Standalone (SA) for mobile users, following the launch of the 5G SA service for Fixed Wireless Area (FWA) users. Collaborations have extended to Microsoft, resulting in a new AI-powered virtual assistant. Its commitment to cyber security has resulted in an alliance with the UAE Cyber Security Council. The first batch from Etisalat Academy's Cyber Sniper Programme graduated. This is a program designed to fortify UAE government employees' cybersecurity skills.
Furthermore, etisalat by e& introduced a groundbreaking, social cloud-gaming platform, namely, 'the Arena Challenge', powered by OnMobile Global's ONMO. Innovations such as 'uTAP' and bespoke commercial offerings reinforced its technology-driven philosophy.
etisalat by e& has launched tailored solutions packages for start-ups and micro-enterprises this quarter, as well as Wi-Fi as a service to improve business connectivity.
Underlining its leadership during the third quarter, etisalat by e& achieved TM Forum Silver certification for Open API compliance, a first in the MENA region. Its pioneering nature became evident through the world's first successful trials of high-capacity transmission networks and significant 5G achievements. For instance, a notable breakthrough was achieved through a successful mmWave pilot deployment, covering over 10 kilometers, attaining a record downlink speed of more than 13Gbps in collaboration with Ericsson.
A partnership with the Emirati Talent Competitiveness Council (ETCC) has resulted in exclusive offers for Emiratis in the private sector enrolled in the Nafis programme.
CEO Exclusive: etisalat by e&: A 'Customer Champion' in a Hyper-Connected Digital World
e& international: Building Digital Brands and Expanding the Partner Network
e& launched the digital brand 'Onic' in Pakistan as part of its partnership with Circles to elevate digital experiences for digital-native customers of Mobile Network Operators (MNOs). Sudatel and Pakistan-based Perfectum Mobile joined the partner network program that supports the growth of global telecom operators, offering access to market best practices, cutting-edge services, and the benefits of e&'s scale to telecom operators around the world.
Strategic partnerships during the quarter also included but were not limited to a collaboration with Vodafone Business that resulted in the acquisition of a major customer, to develop a software-driven network. The two companies plan to work with existing multi-national enterprise customers that would benefit from their combined offerings, operational scale, and complementary geographical footprint.
CEO Exclusive: e& international: Co-Creating Solutions Essential to Enhancing Digital Ecosystem
e& life: Redefining Entertainment and Digital Financial Services
e& life made significant progress in the third quarter, enhancing its offerings by redefining media, entertainment and digital financial services in the region. E-Vision, alongside STARZPLAY continued to pioneer and innovate in the MENA entertainment market with strategic developments in original productions and the acquisition of exclusive key sport rights for MENA (such as the Cricket ICC World Cup or the Rugby World Cup). The financial sector saw the launch of the e& money prepaid card and the introduction of rewards on prepaid card spends. Customers can earn 1% cash rewards with every purchase, the most competitive prepaid card offering in the UAE. e& money's remittance service also saw a spike in transactions, achieving their highest peak in Q3.
CEO Exclusive: e& life: Building Immersive and Unforgettable Experiences for Customers
e& enterprise: At the Forefront of Digital Transformation
e& enterprise continued its success in the third quarter, pioneering digital transformation across various sectors. The company's strategic initiatives and partnerships have positioned it as a leader in driving innovation and sustainable practices.
The company moved forward with milestones such as the launch of the e& enterprise Innovation Centre. In line with the objectives of the Abu Dhabi Industrial Strategy (ADIS), e& enterprise collaborated with the Abu Dhabi Department of Economic Development (ADDED) to enhance and share experiences in the areas of Industry 4.0 and sustainability manufacturing. e& enterprise's fintech blockchain platform, UTC, had Al Masraf join as a new member of its banking consortium.
The digital payments horizon has been expanded through the collaboration with Tap Payments. The commitment to providing cutting edge digital infrastructure has been strengthened through the partnership with Informatica to accelerate data modernization and governance in the UAE.
CEO Exclusive: e& enterprise CEO: Cloud and AI Largely Impact Customer Experience
e& capital: Spearheading Investment and Tech Innovation
e& capital demonstrated strategic foresight in the third quarter via driving innovation and investments in promising startups enabling cutting-edge technologies. At the forefront of technology innovation, the firm participated in the USD 25 million Series A funding round for Ikigai Labs, a startup committed to bringing generative AI to tabular data. e& capital also led a USD 5 million Series A funding round for Maxbyte, driving the industry 4.0 revolution in the MENA region. Additionally, e& capital led the USD 60 million Series B funding round for Airalo, the global eSIM marketplace enabling travelers with seamless connectivity.